Bringing Your Home into the Metaverse - The Future City of 2060, Shin Kyoto, brought to you by Atmoph Studios on Unreal Engine 5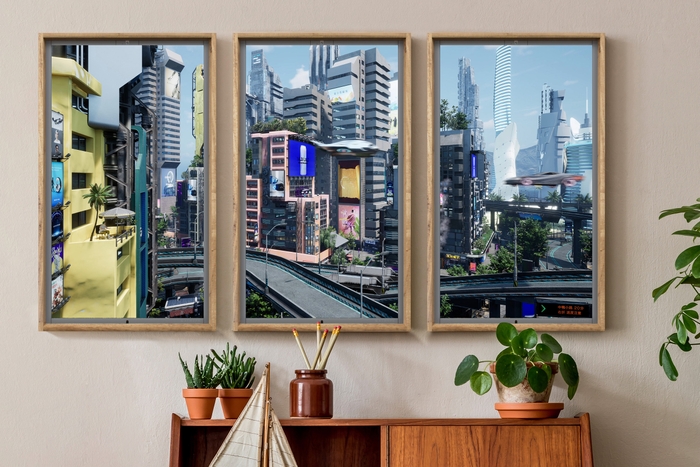 Atmoph Inc. (location: Nakagyo-ku, Kyoto City, Japan; CEO: Kyohi Kang; hereinafter referred to as "Atmoph") developers and suppliers of the Atmoph Window 2, is releasing their second original CG production on June 2nd, 2022 with Shin Kyoto, a look at Kyoto in the year 2060. This release is a precursor to the interactive CG worlds currently in development, allowing users to see a futuristic city right outside their window and experience the metaverse as a part of their own home without needing a VR device.
Following up on the World of Dinosaurs, Atmoph Studios is now releasing the second entry in their line of original CG content with Shin Kyoto. Shin Kyoto is a world created by Atmoph, set in Kyoto in the year 2060. This glance into the near future created by Mr. Kang, CEO of Atmoph, a long time fan of science fiction, draws inspiration from games like "Cyberpunk 2077", and films such as "Blade Runner" and "AKIRA".

To commemorate the release and their appearance as a café in Shin Kyoto, MUNE Coffee will also be running a giveaway of their original dark roast blend.
Moving Towards a Hands-On CG World
Harnessing the Latest Technology from Unreal Engine 5*
Atmoph's latest CG production will be the first to utilize Unreal Engine 5. With its impressive realistic lighting, the sunlight and shadows cast on the street appear smooth and natural.

Taking a Look at Real-Time Streaming
Atmoph is now developing real-time streaming, with seamless 24 hour streams that show the transition from morning to noon and night, as well as the weather - changing between sun, clouds, rain, snow, fog, and even more.

* Unreal Engine is a trademark and registered trademark of Epic Games, Inc. in the United States of America and other countries.
About Shin Kyoto
In the year 2060, space travel has become the norm. Shin Kyoto was established on Kyoto's northern coast. Cars, people and robots fly through the air using Gravitor technology. Shin Kyoto has gained prominence as part of the Visa Free Cities (VFC), allowing visa-free travel among VFCs and the cities on the Moon. The city has all the latest and greatest in shops and restaurants - the current craze among the populace is MUNE, a coffee shop that roasts their own beans.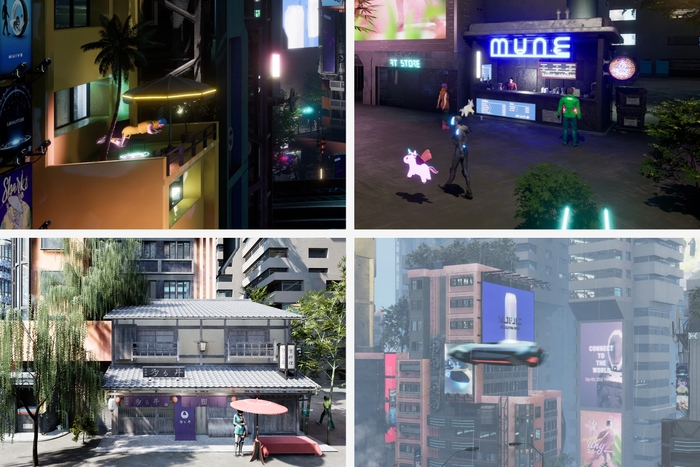 Shin Kyoto Release Giveaway
Thirty (30) people will be selected to win a bag of MUNE Coffee's Original Dark Roast Blend* (100g), commemorating MUNE's appearance as part of Kyoto.

Entry Period:
Thursday, June 2nd, 2022 - Thursday, June 9th, 2022

How to Enter: Follow @atmophjp on Twitter, and tweet at us with the hashtag #AtmophStudios with the answer to the following question: "How does the MUNE coffee shop of 2060 deliver?". (Prizes can only be shipped within Japan)

* At the conclusion of the giveaway, the product will be made available for purchase via the Atmoph Store.
The Future of Atmoph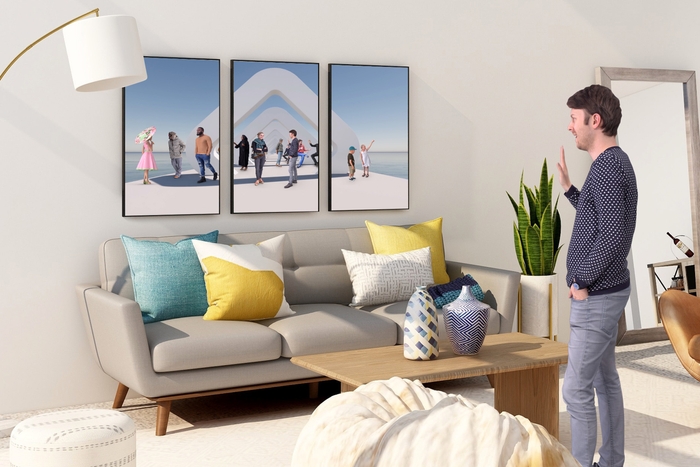 Atmoph is looking to create a new interface for the family via the window of the future. This window will invoke a sense of freedom, make valuable connections between its users, show a multitude of people the same view all at once, give users the ability to see all over the world in real time via live streaming, and so much more. Through these built-in features, everyone can share the same View at the same time.

Through Atmoph Studios, Atmoph is developing original CG worlds, not only giving users new experiences, but syncing the real and virtual worlds together, even allowing users to engage in these free and open spaces. And at the same time, by maintaining our core values to provide our users with views from all over the world that make you think "I'd like to go there", we're stoking their adventurous spirits and their yearning to journey to places they have not yet been able to know for themselves.
About the Atmoph Window 2
The Atmoph Window 2 brings a sense of freedom and relaxation to the rooms of users everywhere with Atmoph's original Views, using 4K and 6K footage and real-to-life sound. Atmoph raised a total of 100 million yen through crowdfunding campaigns through Indiegogo and Makuake in 2019.

As the demand for remote work grows, the Atmoph Window 2 combines not just views from a window that invoke the feeling of what you would see on your travels, but also features that each user will find useful in their everyday life, such as Google Calendar synchronization, alerts you can set to be synced to your daily routine, and more.

Atmoph Window 2 is the window, evolved - kept up-to-date with software updates throughout the year, including a long-awaited new feature, allowing you to upload Views you filmed yourself and Gesture with Camera Module in March 2022. Atmoph continues to deliver updates to bring users new features and experiences.