Japanese Startup FunLife Inc. expands offering for its new fitness gaming app, "FITRIS" overseas.
Entertaining Fitness content for those in need of fun ways to exercise at home while the COVID-19 pandemic continues… and all you need is a phone!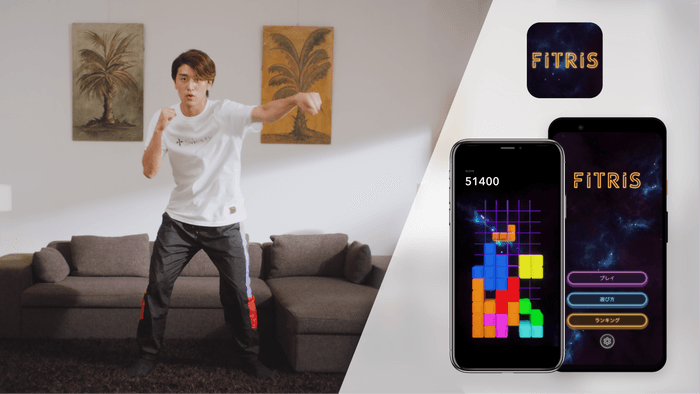 What is FITRIS ?
FITRIS is an exergaming (exercise + gaming) app developed by FunLife Inc., a Japanese fitness technology start-up. The app promotes at-home-exercise using pose-estimation technology, allowing the app to understand your physical movements by analysing images from your camera feed. The game is a simple block alignment game where you aim to complete rows to earn points, the catch is, you have to exercise in order to move the blocks.

Here are the controls:
Left / Right punches………….Move the blocks horizontally
Squats ………………………...Rotate the blocks 90 degrees
Jumping Jacks………………..Quick drop

The company released the app in Japan in September, and now is expanding its offering to other countries such as the U.S., UK, and Austrailia
The company hopes that "FITRIS will be one of the solutions to consider when looking at home workout regimens, which is gaining popularity in response to the extended time we are spending at home due to the COVID-19 pandemic" says company co-founder, Fujio Tamaki.
Gamification of exercise
"Exergaming as a concept is nothing new.", continues Fujio. "Countless game consoles and VR headsets provide exercise / fitness content.". What the company focused on was the portability and popularity of the smartphone. Opposed to other console-based fitness content requiring controllers and setup, a modest open space and your phone is all you need to get a quick bodyweight workout in when using the FITRIS app.
This makes it easy to fit exercise routines into various slots in your busy day or make it a fun challenge when hanging out with friends.
In the company's home market, Japan, only 4.1% of the population are regular gym go-ers (Club Business Japan 2018 data).'Everybody understands the value of exercise, but traditional gyms and other fitness services seem to not resonate with a large portion of the population. It is our hope that FITRIS will be the first of many exergaming experiences that is entertaining enough to get people moving!"
Future Updates
In the current version of FITRIS, users can play the game and the app will keep track of your high-scores, how much you exercised etc. The company says that future updates will focus on online user battles and social functionality. FunLife aims to create a global exergaming community where users can compete, cooperate, and cheer each other on to help maintain the motivation to exercise and stay healthy in these uncertain times.
---
To arrange an interview, contact Jimmy Tamaki at jimmy@funlifejapan.com
or +81-80-4149-2400

About FunLife

Media Contact
Jimmy Tamaki
FunLife Inc.
jimmy@funlifejapan.com
+81-80-4149-2400

SOURCE: FunLife Inc.

Related Links:
https://linktr.ee/vsfit.app