The virtual game world of "DEATH STRANDING" by KOJIMA PRODUCTIONS can now be enjoyed on Atmoph Window 2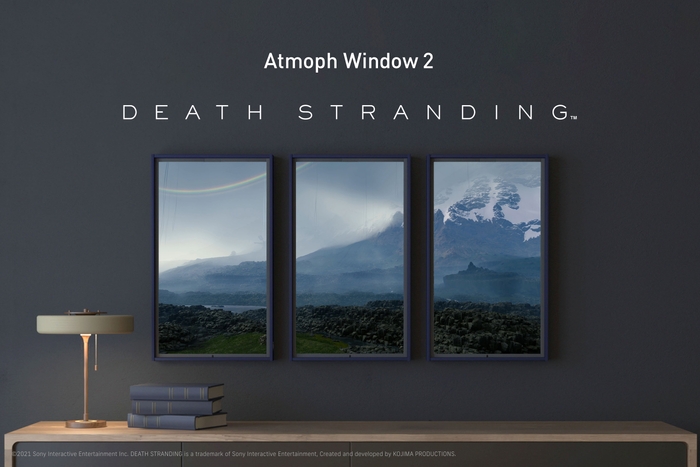 Atmoph Inc, the developers and suppliers of Atmoph Window 2 (location: Nakagyo ward, Kyoto City, Japan; CEO: Kyohi Kang; hereinafter referred to as "Atmoph") today announced a new product under the direction of KOJIMA PRODUCTIONS Co., Ltd. (Location: Minato-ku, Tokyo; President: Shinji Hirano) where users can enjoy the world of "DEATH STRANDING." It is now available for preorder on the Atmoph official online store on the same day as the release of the "DEATH STRANDING DIRECTOR'S CUT".
"DEATH STRANDING," the game loved by fans across the world. Atmoph has made it possible to enjoy the awesomely beautiful world of DEATH STRANDING created by Game Creator Hideo Kojima, where metropolis and nature's vastness meet, even when not playing the game itself.
Any owner of an Atmoph Window 2 can add the Views by purchasing the Edition Pass, which allows the user to select five different Views from the world of "DEATH STRANDING". At the same time, Atmoph has also developed a "DEATH STRANDING" branded frame and will be taking orders for the full package set which includes a special framed Atmoph Window 2 together with the Edition Pass (scheduled dispatch of product mid-December onwards as available).
■ Product Lineup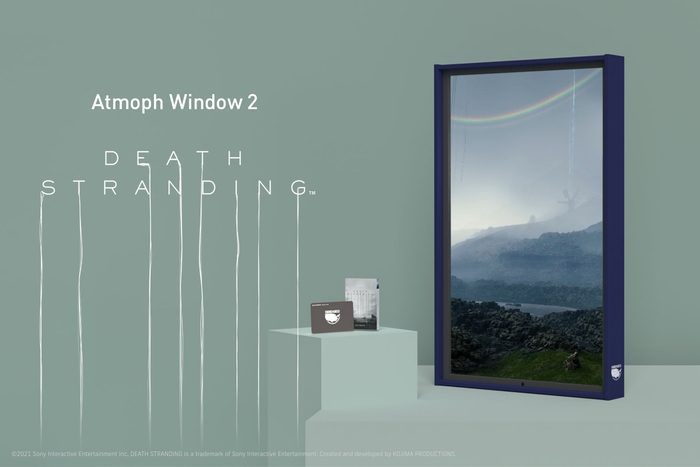 1. Atmoph Window 2 | DEATH STRANDING  $519.00 (tax vary by country)
Package contents: Atmoph Window 2, DEATH STRANDING frame, Edition Pass
For those who have not yet purchased an Atmoph Window
2. Atmoph Window 2 | DEATH STRANDING (3 screen set) $1,435.00 (tax vary by country)
Package contents: Set of three Atmoph Window 2 with DEATH STRANDING frames, Edition Pass
Enjoy Panoramic Views with 3 screens placed side-by-side
3. Atmoph Frame | DEATH STRANDING  $91.00 (tax vary by country)
Brand frame featuring the BRIDGES logo on the side and in symbolic navy color
Atmoph Window 2 frames can be easily removed and attached without detaching the body from the wall
4. Edition Pass | DEATH STRANDING  $54.00 (tax vary by country)
By entering a key code on the Pass into Atmoph Window 2, any user can add the DEATH STRANDING Views to their Window.
① Package: scheduled dispatch mid-December, 2021
② Download: scheduled to initiate order via Atmoph Views from mid-January, 2022
About Atmoph Window 2
Atmoph Window 2 brings a sense of freedom and relaxation to the rooms of users around the world with over 1200 original Views all shot in either 4K or 6K resolution with surround sound. Atmoph received a total 100 million yen in funding through crowd funding campaigns via Indiegogo and Makuake in 2019.

Now, as remote work becomes the new normal across the world, Atmoph Window 2 is enjoying great popularity in Japan and overseas, as a way to enjoy work with a sense of the holiday spirit. Moreover, as more time is spent at home, family members can enjoy time together with the Views from their Window, while making new travel plans and reminiscing on previous journeys.
About KOJIMA PRODUCTIONS
KOJIMA PRODUCTIONS is a creative studio headed by prominent Japanese video game creator Hideo Kojima, formed in Tokyo in December 2015 with the slogan "From Sapiens to Ludens." On November 8, 2019, it released its first creative production "DEATH STRANDING" for PlayStation®4, and on July 14, 2020 for PCs. The production received high acclaim from across the world, receiving numerous game awards including Game of the Year following its release. The latest creation "DEATH STRANDING DIRECTOR'S CUT" for Playstation®5 will be available for purchase from September 24, 2021.